The Importance Of Regularly Scheduled Oil Change Services
Having your oil changed on a regular basis is one of the most effective ways to keep your engine in great running shape. Viscosity reduction of engine oil is inherent in any operating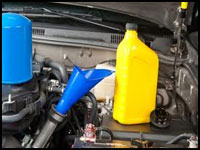 conditions, making the oil less likely to stick to the surfaces it needs to lubricate, as well as preventing it from making a good seal at the piston ring. This can result in engine fatigue, lost power and increased gas mileage.
Regular oil changes protect your engine and keep your car running longer. Go too long between oil change services and your oil turns to sludge. Metal scrapes metal, even melts from the resulting heat further breaking down your engine's components. At AutoWorldHouston.com, we suggest getting your oil changed every 3,000 to 7,500 miles, based on the manufacturer's recommend maintenance schedule.
 Use the button below to schedule your oil change service

Manufacturers base their 3,000 to 7,500-mile oil change service recommendation on "normal" highway miles. Most drivers actually operate under conditions that car makers consider "severe," including stop-and-go driving, frequent trips under 10 miles, towing and car topping, temperature extremes, and dusty conditions.
Did you know about the other items our certified ASE mechanic inspect during your oil change service? Our certified technicians also check your air filter, the condition of your cooling hoses and the tension of your fan belts, to name a few items. Such small problems that can be readily resolved often come to light during the oil change.
This attention to your vehicle is often called multi-point servicing. In addition to the items on the formal multi-point checklist, however, are those that an experienced mechanic may note as he explores underneath the hood of your vehicle. These are the sort of problems that can prevent costly damage later on, and we pride ourselves in our ability to pin-point these small issues before they become larger car problems.
Use the button below to schedule your oil change service