Texas State Vehicle Safety Inspection Service Station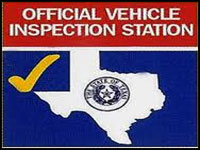 Auto World Houston is an Official Vehicle Inspection Station for the state of Texas. Every motor vehicle in the state of Texas is required to receive an annual safety motor vehicle inspection. All inspections include a comprehensive safety inspection; however some vehicles are required to have an emissions test in addition to the safety inspection.  Diesel powered vehicles and motorcycles are exempt from the emissions standards, but are still required to have the annual safety inspection.
Below is a list of safety items that are checked in the course of a state inspection. For an official list, check the Texas Department of Public Safety website.
Horn
Windshield Wipers
Mirrors
Steering
Seat Belts
Brake System
Tires
Wheel Assembly
Exhaust System
Exhaust Emission System
Beam Indicator
Tail Lamps
Stop Lamps
License Plate Lamp
Rear Red Reflectors
Turn Signal Lamps
Head Lamps
Window Tint
Gas Caps
Financial Responsibility
Motor Vehicle Identification Number
Use the button below to schedule your routine car repair maintenance

Inspections are conducted under legal requirements and standards set forth by the state of Texas and must be followed exactly as written.
The average completion time of the Texas State Vehicle Inspection is 25 minutes; heavy wait times will occur during the first and last few days of the month.
Bring a valid insurance card and, to the best of your ability, make sure all systems are working properly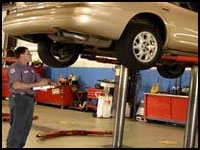 Horn, lights, parking brake operational
Tires and brakes in good condition
No broken lens covers
Vehicles less than 2 years and more than 25 years, and all government vehicles receive safety tests only; emissions inspections are not required. Vehicles more than 2 and less than 25 years, will receive both safety and emissions tests.
Texas inspection stickers are required on all vehicles that enter post daily, regardless of the state in which it is licensed.
Inspection personnel are required by law to place the sticker on the vehicle at the time of inspection.
Emissions testing requires that the engine be warm (10-15 minutes).
Use the button below to schedule your routine car repair maintenance